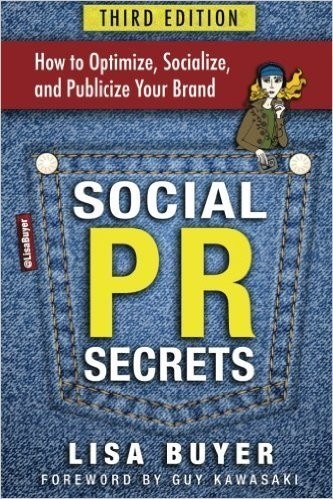 PR Meets Social Media: Read Social PR Secrets 3rd Edition
Published 09 August 2016
Lisa Buyer takes three with the launch of Social PR Secrets 3rd edition. Public relations, digital marketing and social media marketing pros won;t want to miss this. Even if you read the first and second versions, the 3rd edition is a complete refresh with an additional 9 more chapters.
Even if you have the first and second editions of Social PR Secrets, you'll want to buy the third edition with ninenew power-packed chapters including:
Chapter 1: Social PR Evolution and Revolution
Chapter 2: Today's Media Relations
Chapter 3: The New Press Release
Chapter 4: Content Strategy
Chapter 5: Editorial Calendar
Chapter 6: Online Newsrooms
Chapter 7: The Art and Science of Social Publishing
Chapter 8: Managing a Community
Chapter 9: Dialing into Social PR Customer Service - NEW
Chapter 10: Jump Into Any News Story
Chapter 11: Distribution, Amplification, and Promotion
Chapter 12: Live Streaming PR Secrets - NEW
Chapter 13: Podcasting for Social PR- NEW
Chapter 14: Mobile and Social PR Hook Up
Chapter 15: The Rise of Visual Reporting
Chapter 16: Visual PR Secrets - NEW
Chapter 17: Scoring Influence
Chapter 18: Measurement, Analytics, and Google
Chapter 19: Avoiding a PR Disaster
Chapter 20: Strategy for Tragedy
Chapter 21: Optimizing an Event for Social PR
Chapter 22: Social PR Collaboration #FTW
Chapter 23: Facebook PR Secrets for More Newsfeed Coverage
Chapter 24: Instagram PR Secrets - NEW
Chapter 25: Snapchat Secrets, Stories, and Savviness - NEW
Chapter 26: Pinterest PR Secrets - NEW
Chapter 27: LinkedIn PR Secrets - NEW
Chapter 28: Twitter Social #PR Secrets
Chapter 29: Namaste Sane: Space and Mindfulness in Your Social - NEW
Chapter 30: Social PR Wisdom
Social PR Secrets Third Edition is almost double the size of the second edition with completely refreshed content, more than 75 actionable Social PR Secrets (tips), and hundreds of resources all in one place to take your brand to Social PR power user status.
Guy Kawasaki says in the Foreword:

If PR people don't embrace social media, they will be left in the dust. The concept of sucking up to a few major publications and offering exclusives to the one that promises the most coverage is a risky concept.
For one thing, the major publications no longer "make"products and services; they often report on products and services that have been made. Trickle down is waning. Bubble up is the new game.
Thus, PR and social media are completely different. Where PR is about getting journalists to tell people to buy your product. Social media is about providing value. The goals, rules, and best-practices are not the same.
Or should they be? It's a brave new world and Social PR Secrets lights the match where most burn out.
PR and ad agencies, digital marketers, business owners, and professors at the University of Florida and Brigham Young University are turning to Social PR Secrets as required reading.
Here's what you'll learn:

How to get more publicity and exposure using the social media networks Facebook, Pinterest, Twitter, LinkedIn, Snapchat, and Instagram get top visibility for your book on Amazon
How to snag top, optimized public relations and social media content
How media relations and press releases have changed, and what you need to do about it
How to leverage social customer service #FTW (For the Win!)
The crucial secrets to using visuals in social media and public relations
Gain access to a curated list of image sources that goes far beyond the same old boring stock photography
How and why to measure what matters
Order Social PR Secrets today.